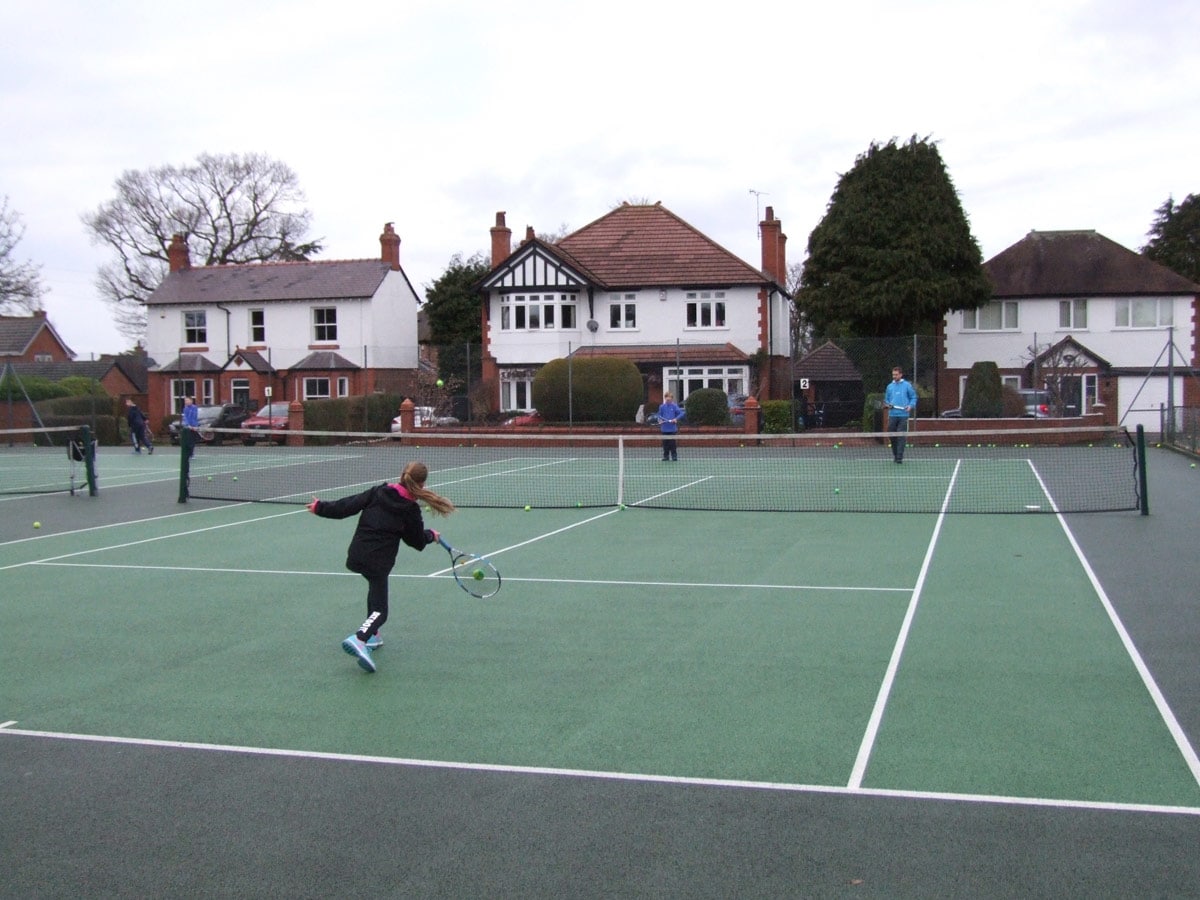 Looking for Tennis lessons in Chester?
Mike Herd Tennis provides fun and engaging tennis lessons in Chester and the surrounding area.
Tennis coaching in Chester is available at many different places to suit you. Mike is one of the only coaches in the area who provides indoor tennis coaching for children, especially handy throughout the winter!
There is Junior midweek and weekend coaching for children as young as 2 years old all the way up to 18 years. This is suitable for all levels of players.
If you fancy some group coaching there is plenty to choose from. For Adults, Mike offers beginners and rusty rackets coaching. There is also doubles coaching for team players who play in the Cheshire and North Wales leagues and for club standard players who just want to beat their friends.
Mike currently delivers coaching for adults and juniors at the following venues: Christleton, Rowton Hall, Helsby, Hawarden and Pen-y-ffordd. Click to see the latest timetables for our Junior Tennis Coaching and Adult Tennis Coaching
Mike can also deliver tennis coaching at your private court. Click to find out more about our Private Tennis coaching
No matter what your ability is, Mike will be able to take your game to the next level. Individual lessons are also available to suit any level and they can help improve your match play and tactics.
Why choose Mike Herd Tennis for your tennis?
Mike Herd Tennis provides super high quality lessons and was a recent finalist for Tennis Wales Coach of the year. You can read more about that here.
Mike focuses on not just teaching tennis, but a big focus is on developing athletic skills and life skills. Children are rewarded for good behaviour, respecting others, being kind and training hard.
Mike's number one aim is to make sure you enjoy your tennis sessions and improve. He will ensure you are looked after. There are also lots of fun competitions and socials so that you feel part of the community.
Take a look at this video to see how fun the lessons are and all the things you can get involved with.
More about the venues we are at
Tennis Clubs
Helsby Tennis Club
Mike is the Head Coach at Helsby Tennis Club and spends most of his time here. The Club is moving to a new site along with Helsby Community Sports Club, which will have fantastic facilities. There will be 4 tennis courts, all floodlit. Helsby has a great membership, there is something for everyone. We lots of coaching, socials, club nights and many teams in the local leagues
Pen-y-ffordd Tennis Club 
Mike is the lead coach at Pen-y-ffordd Tennis Club, which is conveniently located just 15 minutes away from Chester.
Pen-y-ffordd Tennis Club have 3 recently resurfaced courts, where lessons take place on weekends all year round and the program expands in the spring / summer. There are club socials all year round and there is the opportunity to play with members at Wrexham Tennis Centre in the winter.
Mike continues his lessons for children indoors at Castell Alun throughout the winter.
Hawarden
The tennis courts are based in a park. There are four tennis courts which are available to use all year round. Mike offers lessons indoors at the local high school throughout the winter.
Christleton and Rowton Hall
There is the opportunity to have private lessons at these venues. Group coaching will be announced shortly at these venues.
Contact Mike
To enquire about tennis coaching in Chester, contact Mike on 07527 908808or mike@mikeherdtennis.co.uk. More sessions will be added soon.
To keep up with the latest news, please like the Facebook page – Mike Herd Tennis and follow us on twitter @mikeherdtennis